Older Trips we have taken
July 2009
A quick trip to Calgary
We try and get out of the US for all the major holidays. In 2010 with a plethora of Alaska Airline miles we decided to spend a few of them and go to Calgary.
August 2008–Alaska on Infinity
After a long summer of hard work and stress we needed a break. The best thing we could think of was a break on our favorite ship with our favorite people (Bob and Judy)
October 2008–Oosterdam
We take a break from Celebrity and cruise with Holland America. It's a true comparison of the two lines with a cruise on the Mexican Riviera.
October 2007–Barcelona & the Western Mediterranean
We spent four wonderful days in Barcelona before boarding Century for a trip around the Western Mediterranean.
August 2007
Martini Mates Reunion
After almost exactly 2 years, a good-sized contingent of the original Infinity Martini Mates were joined by a number of new members on a seven day cruise to Alaska aboard...what else...the Infinity.
October 2006–Exotic Mediterranean and Balkans
A truly amazing trip on the MV Galaxy that started in Rome and included stops in Mykonos, Rhodes, Santorini, Greece. Then on to Istanbul, Turkey and into the Black Sea stopping at Constanta, Romania, Odessa in the Ukraine before returing for stops in Athens, Greece, Kusadasi, Turkey and Naples, Italy. Click the graphic above to see the entire report.
Original Martini Mate Cruise
September 2005
Sorry folks, this one is just pictures. Not a review to be found.
February 2006
Martini Mates Reunion
Our first Caribbean Cruise. Didn't like it then. Don't like it now. But we would still go if we could.
November 2003–Land trip to London, Scotland & Paris
Just photos of this one.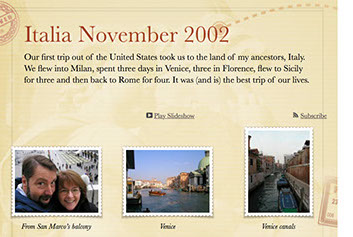 November 2002-Italy
Our first major trip to celebrate turning 50.
Only photos here as well.